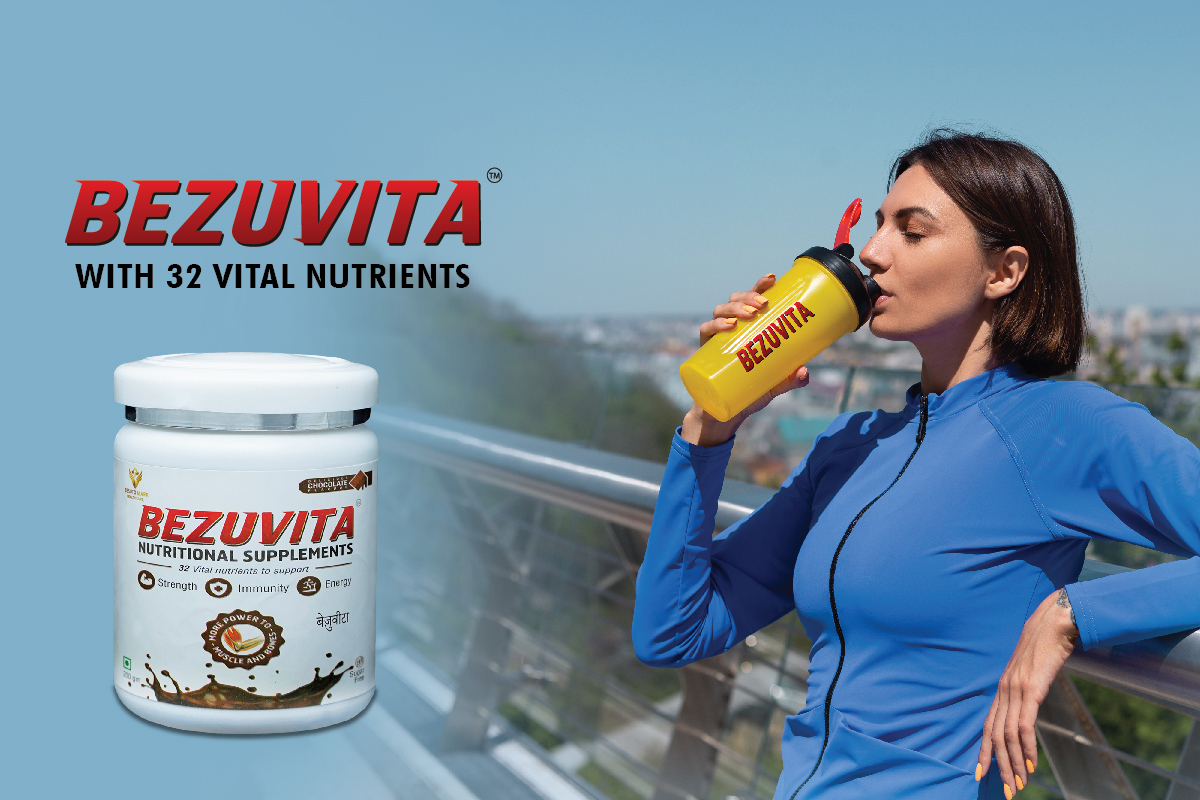 Best nutrition supplement
Have you heard about the best nutritional supplement in the market? No, what are you waiting for then? Get your hands on Bezuvita and feel energized again. Do you also feel too tired or have body ache from working all day non-stop on laptop? Has work from home taken a toll on your mental and physical health? Don't worry we have got you covered with Bezuvita, the best nutritional supplement to fulfill all your nutritional needs.
Do you know, a person's body requires 10-35% of protein daily as per their body weight? Protein is required at all age groups such as an athlete, growing children, pregnant women, lactating mothers, teenagers, active people, busy executive, recuperating patients, convalescence and aged. More than 10,000 protein types are discovered in your organs, muscles, tissues, skin, bones and hair. Bezuvita is filled with minerals and vitamins that are needed for the healthy growth of our body.
Following are the benefits of the minerals and vitamins in Bezuvita:
Vitamin A: Important for good vision
Vitamin C: Reduces the risk of heart disease
Vitamin E: Maintains healthy skin
Vitamin B1: Healthy for brain development and functioning
Vitamin B2: Boosts immune system
Vitamin B6: Helps with depression
Vitamin D3: Strengthens bones and teeth
Zinc: Treats wounds, acne & skin infections
Magnesium: Regulates blood pressure & reduces cramps
Folic Acid: Prevents defects of brain & spine of the baby
Iodine: Important for skin, hair & nail growth
Protein: Boosts energy
Mecobalamin: Prevents anaemia
Calcium: Builds & maintain strong bones
Phosphorus: Improves digestion
Niacinamide: Treats hyperpigmentation
Calcium D Panthothenate: Stimulates healthy hair grow
DHA: Fights inflammation
Bovine: Prevents bone loss
Bezuvita is a great source of protein with 32 vital nutrients- namely, Vitamin A, C E, B1, B2, B6, D3 and minerals such as Zinc, Magnesium, Folic Acid, Calcium, Phosphorous, Iodine, Protein (15%), Niacinamide, Calcium D Pantothenate, Mecobalamin, DHA, Bovine, Whey & Soya Protein, Skimmed milk powder. It is available in chocolate flavour that is both tasty and healthy at the same time. It can be consumed by pregnant women, lactating mothers, growing kids, athletes, young working people, people who are in their 40's, people who have suffered from a disease. Bezuvita helps in recovering, building immunity and also strengthens your bones and teeth. But the best thing about Bezuvita is that it plays a vital role as "memory booster" for growing children and especially for school going children to help them score good marks during the exams.